Home » Posts tagged 'honour'
Tag Archives:
honour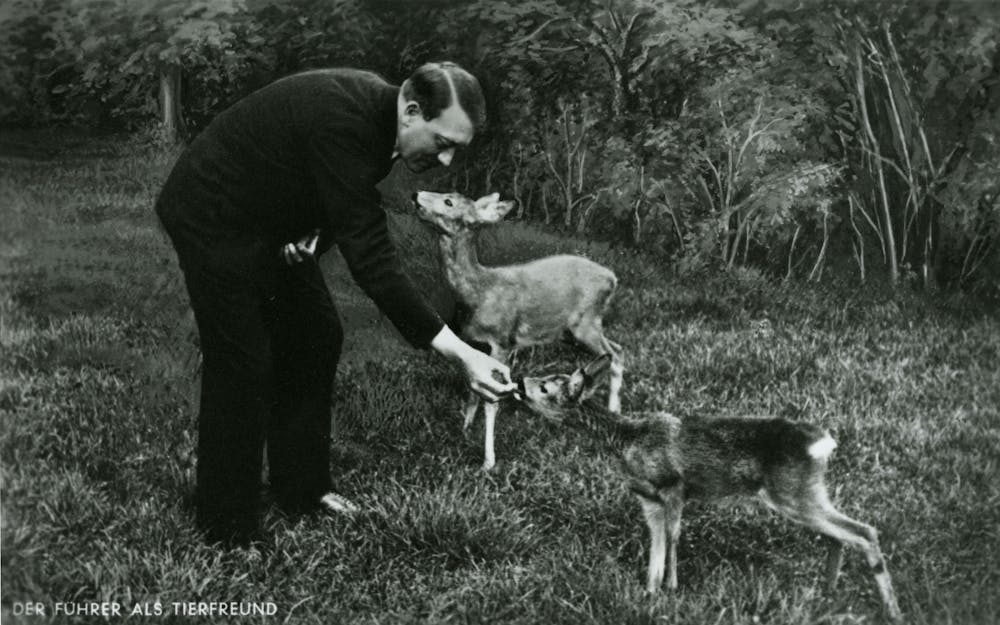 I have just finished reading, Hitler: Ian Kershaw's brilliant, two-volume biography on Adolf Hitler. Over the course of 1432 pages, Kershaw uncovers why Hitler, a man not all too dissimilar from other tyrants in history, has become synonymous with evil.
Kershaw also reveals the gap between Hitler's public image and private personality. He reveals the difference between the rabble rouser capable of captivating the masses by exploiting their fears, prejudices, and desires, and the lacklustre reality. Kershaw shows how Hitler transformed Nazism into a national religion – complete with its own songs, fables, and rituals – and how he transformed himself into its demagogue.
Hitler projected a persona that embodied all the ideals of German nationalism. He presented himself as the archetype of German pride, efficiency, and self-discipline. In Hitler, the German people found the living embodiment of their fears and aspirations.
Furthermore, Hitler presented himself as the saviour of a nation on the brink of ruin. This was not entirely his doing, by the early-thirties things had grown so dire in Germany that people were willing to throw their lot in with anyone promising to restore law, order, and honour. Hitler promised all that and more. Utilising what we today would recognise as identity politics, Hitler promised to restore national pride and wreak vengeance on Germany's enemies. He divided the world into victims (the German people), perpetrators (international Jewry and Marxists), and saviours (the Nazis).
It would be far too simplistic, however, to conclude that Hitler brainwashed the German people. Rather, Hitler and the German people became intertwined in the same unconscious conspiracy. Hitler may have been the one to espouse the kind of murderous ideas that led to Auschwitz and Stalingrad, but it was the German people who gave those ideas their full, unconscious support. As time marched on, Hitler's sycophancy was taken as political genius.
By telling the German people what they wanted to hear, Hitler was able to present himself as a national saviour. The reality was far different. He was a man with virtually no personality. He had no connection whatsoever with ordinary people. He never held an ordinary job, never had children, and only married his mistress, Eva Braun, the day before his suicide. Albert Speer, the Nazi architect and one of the few men Hitler counted as a friend, described him as a duplicitous, insecure individual who surrounded himself with shallow and incompetent people, laughed at the misfortunes of others, and retreated into "fantastic mis-readings" or reality.
Furthermore, whilst Hitler presented himself as the hardworking political demagogue of unmatched genius, he was, in reality, a lazy, egotistical man whose rise to power rested on the cynical manipulation of national institutions. Far from being the tireless worker he presented himself to be, Hitler actually proved unable to deal with numerous major crises during the War because he was still asleep. He saw his role as being the creator of Nazi ideology. The actual running of Germany he left to his functionaries.
When Hitler toured Paris following the fall of France in 1940, he made a special visit to the tomb of Napoleon Bonaparte. Saluting the Emperor's marble tomb, Hitler commented, in typical egotistical style that like Napoleon his tomb would only bear the name "Adolf" because "the German people would know who it was."
He was not entirely wrong. The name Adolf Hitler is remembered today. However, far from being remembered as the founder of a thousand-year Reich, he is remembered as a genocidal fruitcake whose legacy is as inglorious as his life. Hitler and Napoleon may have been similar in many ways (both were foreigners to the countries they would end up ruling, both reigned for a short period of time, and both significantly altered the course of history), but where Napoleon left a legacy that is still very much with today, Hitler failed to leave anything of lasting significance
But perhaps that is precisely what Hitler wanted. Carl Jung has a dictum: if you want to understand someone's motivations for doing something, look at the outcome and infer the motivation. In his brief twelve-years in power, Hitler led the German people into a war that cost fifty-million lives, presided over a Holocaust that murdered eleven million people, and oversaw the destruction of the old Europe. If Adolf Hitler could be summarised in a single quote, the line from the ancient Hindu text, Bhagavad Gita would prove sufficient: "Now I am become death, the destroyer of worlds."
Culture is more important than politics. However, in the hierarchy of priorities, many conservatives rank it somewhere between checking their privilege and meeting diversity and inclusion quotas. They simply do see it as being of any importance.
Conservatives mistakenly believe that the culture is less important than politics and economics. In their mind, culture is akin to leisure, something that is relegated to times to relaxation. However, as the late Andrew Breitbart (1969 – 2012), was fond of pointing out: politics is downstream of culture. It is culture – art, film, theatre, literature, sports, video games, news media, and comic books, among other things – that informs public opinion long before policy is announced to the public or even made.
The left has realised this. They have made it a key aspect of their long-term strategy to dominate the culture and exclude conservatives. It has spent decades infiltrating the halls of culture, politics, and academia with little to no opposition from conservatives who, much to their detriment, have failed to realise the importance of these institutions.
To understand the importance of culture it is necessary to understand what culture is. Culture communicates ideas through art, literature, literature, film, and so forth. It is from culture that ideas and beliefs are popularised or dismissed. And it is from culture that our worldview is formed.
The difference between left-wing culture and right-wing culture is that left-wing culture expresses false ideas, whilst the ideas expressed by right-wing culture tend to be truthful.
Just take a look at conservative art compared with left-wing art. Left-wing art champions communism: a political ideology that has killed and enslaved tens-of-millions of people, Conservative art champions Christian values, honour, patriotism, love, and freedom. The Brady Bunch featured a two-parent family (admittedly blended, but that doesn't really matter) and espoused the virtues of duty, honour, and responsibility whereas a show like Gilmore Girls glorified single motherhood and self-centredness.
If conservatives wish to promote good and truthful ideas, they must be prepared to invest more in the culture. They must be prepared to create businesses, establish grants, and more in order to finance and distribute conservative art. In doing so, they can prevent left-wing censorship and can ensure that good, truthful ideas continue to be promoted.
This week for our cultural article we will be examining the classic 1957 courtroom drama, 12 Angry Men.
BACKGROUND
12 Angry Men is based on a television play inspired by Reginald Rose's (1920 – 2002) real-life experience as a juror on a manslaughter case in early 1954. It was first aired on CBS' Studio One in September 1954.
It was inevitable that the television play would result in a film adaptation. With Henry Fonda (1905 – 1982) and Rose acting as producers, and with Sidney Lumet (1924 – 2011) acting as director, the resulting film was filmed in under three weeks and made for a paltry US$340,000 (US$2,961,823.49 in today's money).
THE MOVIE
12 Angry Men is a small film in every sense of the word. Twelve jurors are locked in a room on the hottest day of the year to decide the fate of a young man accused of murdering his father. As per the law, the vote must be unanimous. Initially, all but one, Juror Eight (Henry Fonda – the only real star in the movie), vote guilty.
It's not that Juror Eight thinks the defendant is innocent, but that he isn't sure. He argues that the boy had an inadequate legal defence and that they, the jury, ought to examine the evidence more closely.
Initially, he has trouble persuading the other jurors to change their vote. But, as they begin to examine the pieces of evidence, more and more of the juror's find room for reasonable doubt. The film ends with a unanimous 'not guilty' verdict.
ANALYSIS
12 Angry Men stands out in an era of sweeping epics and technicolour. It is a small, minimalist, black and white film shot mostly in real time. The mood is created through the creative use of camera angles, camera lenses, and editing.
At the beginning of the film, there are long, unbroken takes filmed from above with wide angled-lenses which give a sense of distance between the characters. They are dominated by the task ahead of them. As the film progresses, the takes become shorter, the camera moves steadily from above to below the action, and the focal length is decreased. This makes the film feel more claustrophobic. No longer at the jurors dominated by the task ahead of them, they are dominated by the force of each other's personalities. As Lumet wrote:
"I shot the first third of the movie above eye level, shot the second third at eye level, and the last third from below eye level. In that way, toward the end, the ceiling began to appear. Not only were the walls closing in, the ceiling was as well. The sense of increasing claustrophobia did a lot  to raise the tension of the last part of the movie."
12 Angry Men is primarily driven by its characters. Tension arises from body language, dialogue, and personality clashes. The characters represent an almost perfect cross-section of different personality types and temperaments.
12 Angry Men acts as a crash course on the parts of the US Constitution that guarantee a fair trial and the presumption of innocence.  It is never stated whether the Defendant is innocent or not but instead asks us to look beyond our biases and arrogance and examine the evidence closer at hand. 12 Angry Men symbolises how well the American legal system can work when people are prepared to look beyond their personal feelings use their integrity for its benefit.