Category Archives:
society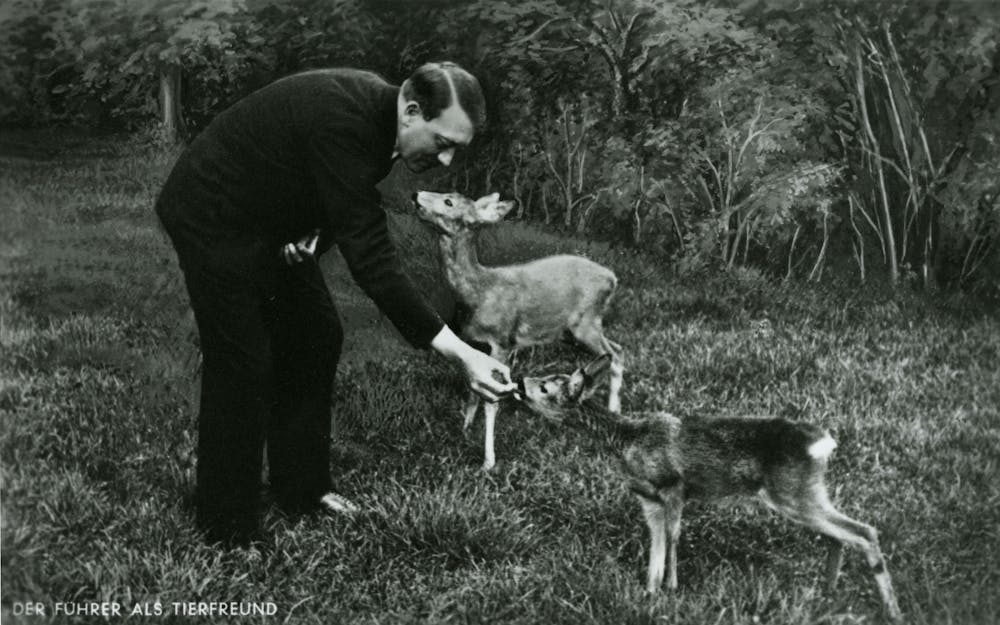 I have just finished reading, Hitler: Ian Kershaw's brilliant, two-volume biography on Adolf Hitler. Over the course of 1432 pages, Kershaw uncovers why Hitler, a man not all too dissimilar from other tyrants in history, has become synonymous with evil.
Kershaw also reveals the gap between Hitler's public image and private personality. He reveals the difference between the rabble rouser capable of captivating the masses by exploiting their fears, prejudices, and desires, and the lacklustre reality. Kershaw shows how Hitler transformed Nazism into a national religion – complete with its own songs, fables, and rituals – and how he transformed himself into its demagogue.
Hitler projected a persona that embodied all the ideals of German nationalism. He presented himself as the archetype of German pride, efficiency, and self-discipline. In Hitler, the German people found the living embodiment of their fears and aspirations.
Furthermore, Hitler presented himself as the saviour of a nation on the brink of ruin. This was not entirely his doing, by the early-thirties things had grown so dire in Germany that people were willing to throw their lot in with anyone promising to restore law, order, and honour. Hitler promised all that and more. Utilising what we today would recognise as identity politics, Hitler promised to restore national pride and wreak vengeance on Germany's enemies. He divided the world into victims (the German people), perpetrators (international Jewry and Marxists), and saviours (the Nazis).
It would be far too simplistic, however, to conclude that Hitler brainwashed the German people. Rather, Hitler and the German people became intertwined in the same unconscious conspiracy. Hitler may have been the one to espouse the kind of murderous ideas that led to Auschwitz and Stalingrad, but it was the German people who gave those ideas their full, unconscious support. As time marched on, Hitler's sycophancy was taken as political genius.
By telling the German people what they wanted to hear, Hitler was able to present himself as a national saviour. The reality was far different. He was a man with virtually no personality. He had no connection whatsoever with ordinary people. He never held an ordinary job, never had children, and only married his mistress, Eva Braun, the day before his suicide. Albert Speer, the Nazi architect and one of the few men Hitler counted as a friend, described him as a duplicitous, insecure individual who surrounded himself with shallow and incompetent people, laughed at the misfortunes of others, and retreated into "fantastic mis-readings" or reality.
Furthermore, whilst Hitler presented himself as the hardworking political demagogue of unmatched genius, he was, in reality, a lazy, egotistical man whose rise to power rested on the cynical manipulation of national institutions. Far from being the tireless worker he presented himself to be, Hitler actually proved unable to deal with numerous major crises during the War because he was still asleep. He saw his role as being the creator of Nazi ideology. The actual running of Germany he left to his functionaries.
When Hitler toured Paris following the fall of France in 1940, he made a special visit to the tomb of Napoleon Bonaparte. Saluting the Emperor's marble tomb, Hitler commented, in typical egotistical style that like Napoleon his tomb would only bear the name "Adolf" because "the German people would know who it was."
He was not entirely wrong. The name Adolf Hitler is remembered today. However, far from being remembered as the founder of a thousand-year Reich, he is remembered as a genocidal fruitcake whose legacy is as inglorious as his life. Hitler and Napoleon may have been similar in many ways (both were foreigners to the countries they would end up ruling, both reigned for a short period of time, and both significantly altered the course of history), but where Napoleon left a legacy that is still very much with today, Hitler failed to leave anything of lasting significance
But perhaps that is precisely what Hitler wanted. Carl Jung has a dictum: if you want to understand someone's motivations for doing something, look at the outcome and infer the motivation. In his brief twelve-years in power, Hitler led the German people into a war that cost fifty-million lives, presided over a Holocaust that murdered eleven million people, and oversaw the destruction of the old Europe. If Adolf Hitler could be summarised in a single quote, the line from the ancient Hindu text, Bhagavad Gita would prove sufficient: "Now I am become death, the destroyer of worlds."
One of the great joys of my life is watching speeches and interviews given by great intellectuals. It was in pursuing this pleasure that I happened upon an episode of the ABC's panel discussion show, Question and Answers. Coming out of the Festival of Dangerous Ideas, the four people on the panel – the traditional conservative, Peter Hitchens; the feminist writer, Germaine Greer; the American writer, Hanna Rosin; and the gay rights activist, Dan Savage – spent an hour discussing tops ranging from western civilisation to modern hook-up culture.
It became quickly apparent that the intellectual stature of the four panellists was not evenly matched. Hanna Rosin and Dan Savage were less rational, less mature, and more ignorant than Peter Hitchens and Germaine Greer. By comparison, Hitchens and Greer gave carefully considered answers to most of the questions asked. Hitchens, in particular, gave responses based on careful consideration, rational thought, fact, and wisdom. (This is not to say one is required to agree with him)
It was the behaviour of the audience that proved the most alarming, however. Like most Questions and Answers audiences, it was comprised mostly of idealistically left-wing youth. Their primary purpose for being there was to have their ideological presuppositions reinforced. With no apparent motivation to listen to the answers to their questions, these youngsters would clap and cheer like trained seals whenever someone makes an ideologically-correct statement.
How has our society become so stupid? Why do we no longer see being wise and knowledgeable as virtues in and of themselves? Part of the answer comes from a culture of self-hate and contempt promulgated by left-wing intellectuals. Accordingly, Christianity is regarded as archaic (unless, of course, it promotes left-wing beliefs), inequality is caused by capitalism, and the problems of women come as the result of the "patriarchy." Even the Killing Fields of the Khmer Rouge are rather conveniently blamed on "trauma" emanating from the Vietnam War (rather than the actions of Pol Pot and his band of murderous, communist brutes).
This continuous, unrelenting assault on Western civilisation has led to a general estrangement from Western culture. The common people have been robbed of their inheritance because scholars and intellectuals have reduced their culture into a caricature to be dismantled at will. As a result, they are no longer exposed to the great works of art, architecture, literature, music, philosophy, poetry, sculpture, theology, and theatre that the Western world has produced.
The modern proclivity for ignorance and stupidity comes out of a very special kind of arrogance. It is the kind of arrogance that makes people believe that all those who came before them must be dumber than they are. It does not acknowledge that our modern "enlightenment" is built on the works of those who came before us. Our forebears would be dumbfounded to find a world where, despite having greater access to information than anyone else in history, people have closed their minds to learning.
What all this boils down to is a rejection of wisdom. If you believe that all those who came before you are dumber than yourself you are unlikely to believe they have anything worthwhile to contribute. As such, you are unlikely to believe in wisdom as a universal good. As Neel Burton over at Psychology Today pointed out: "in an age dominated by science and technology, by specialisation and compartmentalisation, it [wisdom] is too loose, too grand, and too mysterious a concept."
We have made phenomenal advancements in all areas of human knowledge. Sadly, our successes have also made us arrogant and self-righteous. If we are to take full advantage of our potential, we need to reignite our cultural past and find the humility to learn from those who went before us.
The biggest health crisis facing the modern world is obesity. According to the World Health Organisation, obesity rates have tripled since 1975. As of 2016, 650 million adults, 340 million children aged between five and nineteen, and 41 million children under five were obese.
And it's affecting Australia, too. Between 1995 and 2014/15, the number of obese Australians rose from 18.7% to 27.9%. The Sydney Morning Herald even reported that nearly a third of all adult Australians can now be considered obese. According to the Heart Foundation, approximately 42.7% of adult men and 28.8% of adult women are overweight. More alarmingly, 28.4% of men and 27.4% of women are considered obese.
We are poisoning ourselves and we don't even know it. Among the health problems caused by obesity are diabetes, heart disease, stroke, high blood pressure, high cholesterol, gall bladder disease, a multitude of cancers, fatty liver, and arthritis.
We are poisoning ourselves in two distinct ways. Firstly, we are eating far too many carbohydrates. Carbohydrate-rich foods like bread and pasta cause blood sugar levels to rise. This creates an excess of sugar that causes the body to crave more carbohydrates. The result is that the body stores fat.
Whether or not bread is good or bad for us is up for debate. Lynid Polivnick, the so-called "nude nutritionist", has defended bread stating that "it's much healthier than people make it out to be. It's often demonised as being a cause of weight gain but in truth, bread does not actually make us gain weight." And she's probably right. There is nothing wrong with bread provided that it is eaten in moderation. The problem is that many of us don't eat bread in moderation.
Many health experts do not share Lynid Polivnick's view. The website Healthy Simple Life claims that bread is mostly devoid of any real nutrients. Bread tends to be 'fortified' with vitamins and minerals because its original nutrients have been stripped from it and added back later. These nutritional elements are unlikely to be absorbed by our bodies.
Secondly, we are consuming far too much sugar. This is a relatively new problem. Our ancestors had little access to refined sugars. If they were lucky, they were able to enjoy a tiny amount of fruit during vanishingly small periods of the year. Otherwise, they were relegated to a diet rich in vegetables with a small smattering of meat.
By contrast, people in modern, wealthy society have access to seemingly endless amounts of sugar. Added sugar accounts for seventeen-percent of the average American adult's diet. Sugar is now present in everything from cereal to chocolate bars.
Over-consumption of sugar is a leading cause of obesity and its related illnesses. It has been found to increase the risk of certain types of cancer – namely, oesophageal, pleural, small intestine, and endometrial. And it has been linked to the doubled prevalence of diabetes over the past three decades.
Over-consumption of sugar has also been found to correlate positively with an increased risk of heart disease. A study involving thirty thousand people found that those whose diets were comprised of seventeen to twenty-one percent added sugar had a thirty-eight percent greater risk of dying from heart disease than those whose diets were comprised of only eight percent sugar.
The modern western man is living in the most prosperous times in history. There is less abject poverty and less starvation today than at any other period in history. The downside of this has been an increased proclivity for greed, sloth, and, as a consequence, ever-expanding waistbands. The answer to the obesity crisis is to improve our lifestyles.